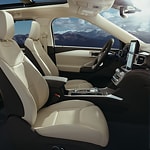 The new Ford Explorer is like a gift that keeps on giving and for good reasons. This popular SUV comes in full size, is loaded with advanced technologies, and offers plenty of amenities. It also doesn't hurt to have an engine that's powerful and efficient, but there is more.
The new Ford Explorer starts out by displaying a photogenic design thanks to its near-perfect aesthetics. This popular SUV looks great from every conceivable angle. Consumers will love how well balanced the new Explorer sits on all four. There are bold contours and grooves that ride along the vehicle's sweeping lines. The interior of this SUV is equally as impressive. Good ergonomics is the name of the game as all of the controls are in arm's reach of the driver. Legroom is plentiful, and the interior's sophisticated design perfectly matches its exterior façade.
Test drive the new Explorer by speaking with one of our associates.